In May 2016 I was invited to Newcastle College to deliver a talk to the second year students who were just about to embark on their quest to succeed within the creative industry.
As the majority of us within the industry are fully aware, it can be a daunting feeling knowing that you will be walking out of the door as a student one last time to be then thrown into the vast chasm of reality as a fledgling designer equipped with CV and portfolio in hand and the optimistic endeavour to clinch that all important first opportunity.
My trip to the Mandela Building at the Ryehill Campus at Newcastle College would not have been complete without reminiscing about my own experiences, feelings and fears from when I went through my own final weeks as a student.
The pre -graduates I was going to talk to were in the middle of putting the finishing touches to their final show pieces. An event which is still very well attended each year by industry professionals looking to discover the best young talent the North East has to offer.
Fortunately for me the guys and girls of the FdA L5 Graphic Design course found some time away from their final show preparations to come and listen to me share some of my thoughts about design, the industry, and my journey so far.
When I was first asked by course leader Richard Short to deliver a talk to his class, the brief was to focus the talk on the importance of professionalism and how to approach the challenge of finding that first job or opportunity. I immediately thought this was a great topic to discuss and got to work pulling my presentation together.
I wanted to find a simple way to tell my own story and highlight the characteristic which I believe helped me succeed after leaving college. I soon had a list drawn up of all of the traits that I believed stood me in good stead in my own endeavours, also characteristics I look for in the younger generation of designers coming through today.
The result was a list of 10 "Be's" (shown below). All of which are of great importance when striving to break into a hugely competitive industry such as ours. The list of 10 then sat within the 3 key categories of "Be Driven", "Be Creative" and "Be Human".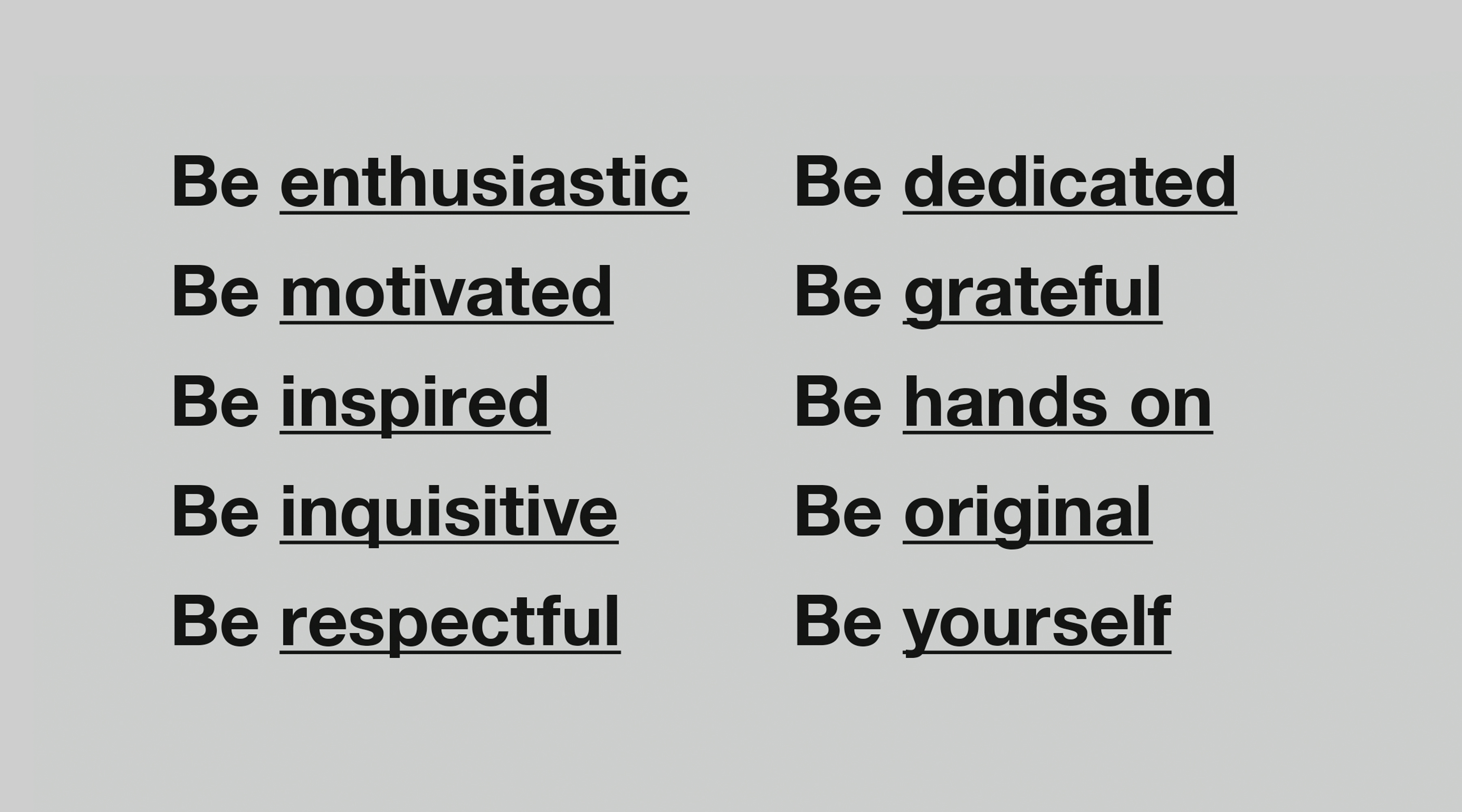 Overall the day at the college went well. Giving me the opportunity to go back to the place where I studied to share my thoughts and advice with a group of young designers in the same situation as I was over a decade ago.
I would like to wish all of the second year (now graduates) all of the best in their own endeavours in breaking into the industry and I look forward to working with the college again in the near future.
Also a big thanks to the students that gave some great feedback from the talk (see below):
"Inspirational and a good insight into whats to come in the upcoming years.''
– Kris Averill
"I think that the talk with Karl from Wonderstuff was really interesting because it was given by someone who had been in the exact position that we are all in at the moment."
– Student X
"Karl from Wonderstuff came to Newcastle College to give us a lecture. It was a really inspirational talk from him, mostly because he still had his head screwed on. He hasn't turned into a design snob or whatever, he still values the lost art of respect, which you don't see much of anymore. Wonderstuff have had a few big names under their belt and they've delivered beautifully especially with the branding of Lane7. I really enjoyed the talk with Karl, it was very motivational and it kind of give me the kick up the backside I needed. It made me realise that even coming from Newcastle College you can still go far and still stay in Newcastle."
– Lewis Kirkland
If you'd like one of the team from Wonderstuff to speak about design, and it's value, please email
karl@wonderstuff.co
and start a conversation.