In London you can't help but be inspired by the wealth and diversity of the visual brand, wherever you happen to be.
Our Creative Director, Paul, spent the day in London recently – around Tottenham Court Road and Kings Cross – and after a productive meeting (the purpose of the visit) had some free time before the train back to the studio.
Visual ideas are everywhere
Looking around the area, with its mix of classic architecture, local, national and international brands, and ongoing redevelopment there is a wealth of visual ideas, communication material, exhibitions and spaces. All within walking distance of each other. All backed by businesses – brands – shouting for attention in one of the most vibrant cities in the world.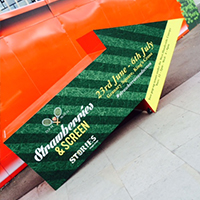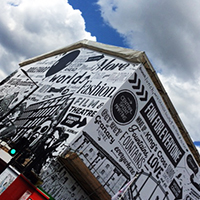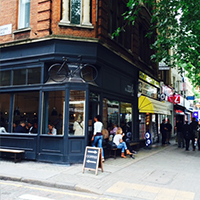 From the city's developers engaging the public about the buildings and spaces that don't exist yet, right down to small, independent vendors selling great food and drink to the passing tourists, commuters and community. Every one of them has a clear look, feel and style, communicated by their brand. Why, because they each have a clear purpose. They know what they offer, and who to.
Brand relationships
With thousands of potential customers every day, they all know they can't sell to every one, and they don't want to. They want to look after their market. To make them come back day after day. To create a relationship which lasts.
Many London businesses know their market and build relationships with them. Can you say the same for your business?